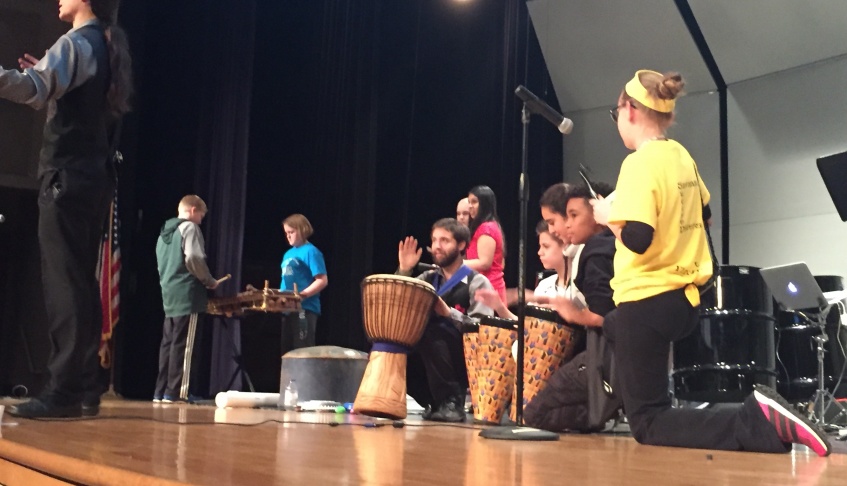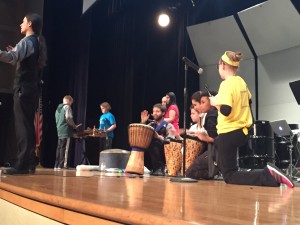 Last week, THE Potts & Pans Trio drove up to Kenosha, WI to present at Mahone Middle School. We frequently do these in school performances through our new company, Culture, Arts & Music, and are always excited for a new opportunity to teach. This time around, we were at the start of the day, bright and early. One of my old professors used to say "It's unnatural for musicians to be up this early!" but we made it work nonetheless. Mostly, this was thanks to the huge amount of help we received from the Mahone students!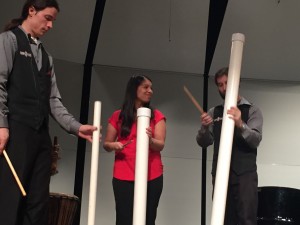 It was really a treat for us to see how well this school operates, and how student driven all the activities were. When we first arrived, we had a sixth grader waiting for us at the door. He was very professional, introduced himself, and showed us where we needed to go. A few minutes and a couple introductions later, we were on the stage, bus pulled up to the loading dock, and setting up for the show. The stage was gorgeous, with a nice house that competes with most high school auditoriums. As we were getting our instruments on stage, a full crew of students began working with us to provide and sound check microphones, adjust lighting needs, pull curtains as needed, and finalize any stage set up. These guys were all very well trained, very easy to work with, and are definitely on the right track to working in the biz!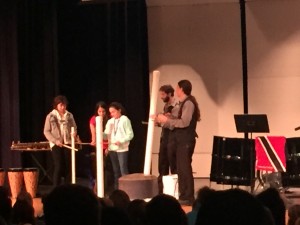 Our performance at Mahone was full on Edu-tainment, our special combination of education and entertainment! We had the full set of sixth graders, and we were giving them a taste of how music came from Africa and influenced Latin America. We were able to have students come join us on stage as we performed the various forms of music on the islands of Trinidad and Tobago. We began with the traditional African Percussion, moved to Tamboo-Bamboo after the banning of skin headed drums, then to the metal scraps, and closed with the modern steelpan. We also demonstrated how in other countries like Brazil (where there was no ban on skin headed drums) the progression ended differently with the current bateria from the samba school.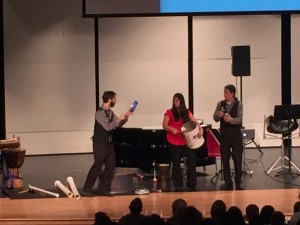 Of course, we also continued with a bit more into the development of the steelpan. We showed the inside of the bowl, explained tuning, and discussed the different voices. We performed classical music and talked about TASPO's trip to London. Throughout every part of the assembly, the kids were interested and engaged. When we needed volunteers, they were all eager to participate and did a really great job with the instruments and rhythms we were teaching them. They were all very attentive, and very thankful afterwards. I can safely say this was one of the smoothest and most enjoyable assemblies we've had the pleasure of putting on.
And we would love to do more! See here how a Potts & Pans assembly, provided by Culture, Arts & Music can fit into your school's curriculum. If you are a teacher or administator, send us an email and let us know what type of assembly you are looking for. Parent? Student? Contact us as well if you want us at your school, and we'll call your administration directly! Looking forward to our next assembly. Final Note – the pictures you see of our show in Mahone, also taken by the students! These kids really run the school

—AJH, out.