This past Sunday we performed for our Annual Toys for Tots Benefit Concert. This show is one of my favorites every year. Not only do we play Holiday Tunes, but we are able to bring people from the community together to support a great cause. This year we brought in over 200 toys and $376 in donations for Toys for Tots – that's more than our first two years combined! Having a chance to bring holiday spirit to those who attend, and joy to the kids who receive the presents is a wonderful feeling, and I left this show filled with joy.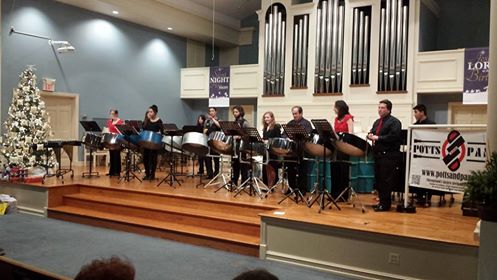 First, we relocated this year to the First Congregational Church in Crystal Lake. This was not the first time Potts & Pans has had the opportunity to play here, and it is always a treat as the pans really sing in this space. Matt and I can be seen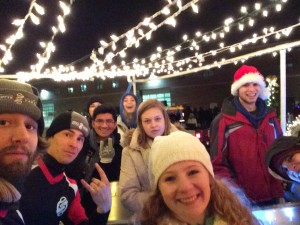 here again this coming weekend for their Family Christmas Concert (no pan on that one though). In addition to our long relationship with FCC, the most exciting reason for changing locations was that our community band grew so much we needed a larger performance area! I am absolutely thrilled with everything this community band has been doing. They did an awesome job at the Crystal Lake Festival of Lights Parade a few weeks back, and worked hard this semester to open and close our Toys for Tots concert! Not only are we growing in numbers, but the skill is getting higher. More and more students are comfortable on multiple steelpan voices, more know about the pan's history, and people in the area are getting really excited over pan! I'm still shocked at how many flute and oboe players the group attracts, but since our professional group has so many talented flute players, I suppose I should just accept this as the thing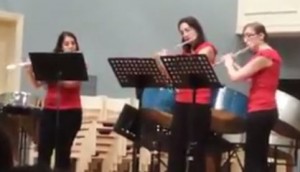 The professional group filled in the middle portion of the concert. We had a quartet this time, and the groove on stage was tight. I often lose track of time when playing with these guys, it's so comfortable on stage with the P&P folks that I could do it for hours and hours. That being said, the single hour of this concert was all the better since we had a fantastic audience to appreciate our tunes! One of my favorite parts of this group is the wide variety of music we bring to our shows. Bluypso (Blues + Calypso: term coined by P&P board!) is endlessly fun to play, and if I can read a crowd it is equally fun to listen to. Of course we don't stray from the traditional Calypso's and Soca's of Trinidad & Tobago either. After all, the people and music of T&T is what allows us to do what we do! Respect! But the talent in our group goes beyond pan as well. I've already mentioned our flute players, and they gave 2 killer trio performances. Plus, Christina put together a beautiful arrangement of "What Child Is This" that included 3 flutes entering at different times, which blended with the pans perfectly. I also brought out the vibes for a few! I played "Wish Upon a Star" as a vibes solo, and am extremely grateful for the many compliments on my improvised arrangement I received. Is it a Disney tune? Sure. Does Disney own Star Wars? You bet. Does that have anything to do with why I picked that tune? …. perhaps. But playing by myself is only part of the game. Vibes+Pan=Magic. I played vibes with the band on two numbers, and continued to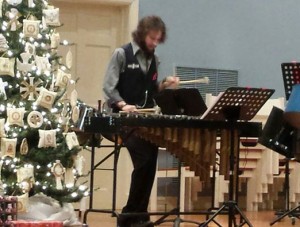 realize how these two instruments produce such a fantastic sound together!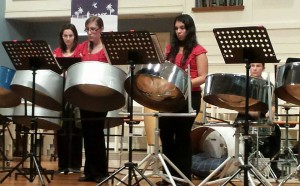 For anyone who missed the show, stay tuned to our site, facebook, and twitter because we'll get some recordings posted for all of you. If you want to make a donation to Toys for Tots you can contact them here. Be sure to get them in early so the toys can get out to kids before Christmas! Again – a HUGE thank you to everyone who was able to make it. Also, my fellow directors Matt & Christina – you're the best – the work we do, and the opportunities I have because of it, is awesome! And of course, all the other performers from our professional and community groups – you guys ROCK!
—AJH