Let me start this off by congratulating Maggie and Aaron again on their beautiful wedding. Now, let's get into some details.
To start off with, Aaron called me in the middle of September and explained his situation. Originally, him and Maggie planned on getting married later but circumstances forced them to make it happen sooner. He called hoping that Potts & Pans still had a performer available for a special treat for his soon to be wife. He explained how much she loved steelpan and he wanted to surprise her with having us play at their wedding that would take place on 10/3/15. I was happy to tell him that another performance had backed out and that I was personally available to be there! No need for any more details than that, moving on.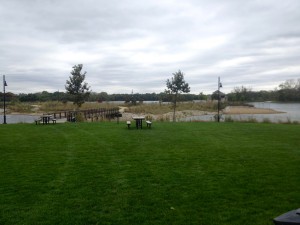 Fast forward to the day of the wedding. I show up to Three Oaks Recreational Center in Crystal Lake, IL (nice to have a home show!) and must say I was blown away by this place! Although I have driven by Three Oaks hundreds of times, I have never actually been there. Upon pulling in, I could not believe how beautiful it was! Crystal Lake really did a great job putting this park together, it is an absolutely gorgeous location for a wedding. Although I could go on about this place, I have digressed from what really matters: Aaron and Maggie.
Aaron and Maggie took a very low key approach to their wedding, and pulled it off perfectly! Keeping things simple with modest table dressings, guests in comfortable clothes, a pig roast for food and a canoe for a bar really made this a comfortable and friendly wedding.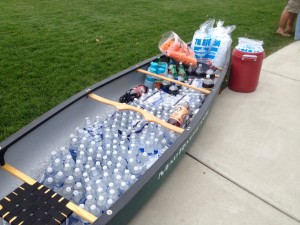 It didn't matter that I had never met, or even talked with, Maggie or anybody else before. This comfortable setting and the warmth of the guests made EVERYBODY there family. This wasn't a great wedding because of the setting though. This was a great wedding because of the people!
Aaron had told me early on that he was a fire fighter and that this would be a small wedding with guests almost completely made up of fellow fire fighters and police officers. This certainly is not my first time working with firemen and cops, but I never ceased to be amazed at how great of people they really are! There were multiple people there that couldn't offer enough help to me throughout the evening. While tearing down the Potts & Pans tent, four guys instantly came over and started helping out and making jokes like I was just one of their long time buddies. I have done some gigs for some great people, but nobody has ever jumped up to help me like that and make me feel like such a part of the family that was there. After getting the tent down, a few other guys came over and carried all my equipment to Lolita (the van) while I carried a single stand! While I was loading things into Lolita, they continued to joke around with me while a couple of scuba divers brought gear to their car parked next to me. These guys then offered to help them! Who does that! Here are a couple of complete strangers (not even part of the wedding in anyway) and these guys immediately offer to help them out! They also offered them food from the wedding and invited them to hang out. Being a part of such incredible acts of kindness juxtaposed against all the negative media lately about cops, and fire fighters being lumped with them at times, it's maddening to see how people take for granted these incredible individuals. Here are people that put their lives on the line to save strangers so it really should be no surprise they don't think twice to offer their help with such a mundane task like loading equipment!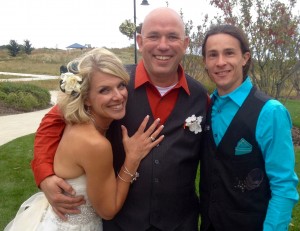 It has been said that birds of a feather flock together and it seems like Aaron and Maggie are part of one great flock. From the little bit that I worked with Aaron, I sensed what a genuinely caring person he is and I was very excited to actually meet him and his new wife. Upon meeting them both, and their friends/family, it is easy to say that these two great people seem to be set up to have a wonderful life together. I can't thank Maggie and Aaron enough for allowing me to be a part of their special day. I can certainly tell that they both sincerely appreciated me being there. It really is a great feeling to have the bride immediately come over to me after the ceremony and just watch me for a while before exclaiming "That is so cool!" Aaron did a marvelous job pulling off the surprise steelpan music, and Maggie could not have been happier.
I wish the very best to Maggie and Aaron and truly hope to cross paths with them again. They both seem like wonderful people and I couldn't be happier for them.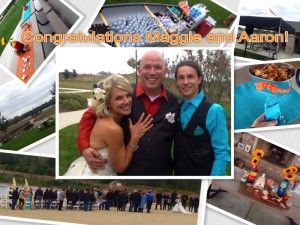 PS – Check out the picture showing the pocket square with the table cloth and snack bucket to see how close we matched their colors! Color win for Matt!